Essentials for a Baby Nursery
One of the most exciting things you will do as a first time parent is plan and set up your baby's nursery.  But it can also be overwhelming as there are so many choices for you to make and it's not always clear what's essential and what might just be nice to have.  Of course, you want your nursery to be stylish and include some fun elements, but keep in mind that all your baby really needs at this stage of their life is a soothing and calm space. The perfect nursery can be set up by focusing on 4 essential elements; somewhere for your baby to sleep, somewhere to change them, somewhere to store all of their stuff and somewhere to feed them.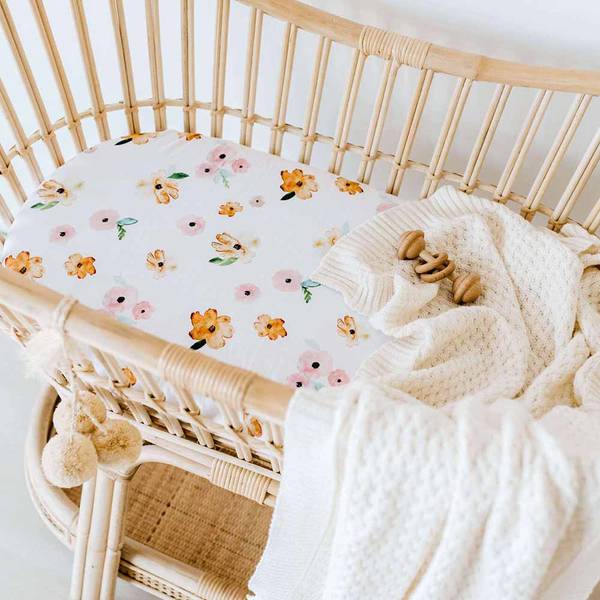 Somewhere for your baby to sleep
Your baby will need a bassinet or crib to sleep in (and a cot as they get older), a mattress, mattress protector, bassinet sheets (2), fitted cot sheets (2), knitted baby blankets and baby wraps & swaddles (4-8).
Fitted bassinet sheets make changing your baby's bedding easy and are a safe option as they fit snugly to the mattress.  These fitted bassinet sheets do double duty as change pad covers and can be ordered in a two pack, which makes styling your nursery easy and economical. 
You should also have muslin wraps and a swaddle sack for swaddling your baby in the first few months. These encourage your little one to sleep in the beautiful nursery you have created for them. We have some hints and tips for swaddling for you here.  Knitted baby blankets will keep baby snug and warm in their bed. These knitted baby blankets are made from 100% cotton and are machine washable, making them very easy to care for (which is super handy in the case of accidents).
As your baby gets older and moves into a cot, fitted cot sheets are a must have.  These fitted cot sheets are a super soft and practical addition.  And because they are stretchy, they fit the mattress well, making them safe for babies who have started to move about in their bed.
Finally, fit curtains and blinds to windows to darken the room and help your little one to enjoy sleeping in their bed.
Somewhere to be changed
Let's be honest, you will spend a lot of time feeding and changing your bambino in the first few years of their life and whilst you can change your baby anywhere, it is helpful to have a change table and a change pad with cover to change them on.  When looking for a change pad cover you want something that's easy to pop on and off and that's easy care.  These change pad covers will fit an oval or rectangle mattress and they are super soft which is nice for your baby's skin.  And an added bonus; they coordinate beautifully with other items in our range including our fitted cot sheets.  When it's time to clean them, simply throw the change pad cover into the washing machine.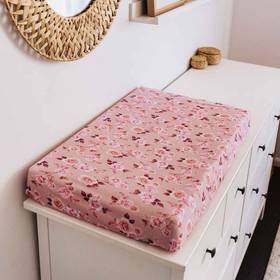 Somewhere to store their stuff
Babies need a lot of stuff!  Muslin wraps, bedding, change pad covers, clothing, nappies, wipes, toys, books and more all need to be stored somewhere.  A chest of drawers, or built-in cupboard in their room is ideal for keeping things close at hand, but packed neatly away so you're not tripping over the mountains of things they need.  Storage containers and a book shelf are also nice to have so you can display the lovely toys and books you have collected (and been given at your baby shower).
Somewhere to be fed
Of course, you can feed your baby anywhere and even when you are at home you may find yourself choosing different spots depending on the time of day and your mood.  But a comfortable chair in their nursery is lovely to have and can serve to encourage your baby to associate their room with feeling content and comfortable. 
There are so many beautiful and practical things you can add to your baby's room, but if you start with the essentials your baby will feel loved, cared for and comfortable in their nursery.