Getting your baby involved in Book Week
It's that time of year again when pre-school and school aged children get to dress up as their favourite book characters for Book Week which is happening from August 20th to 26th. But what about the littlest hunnies – how can they get involved in the celebrations? At Snuggle Hunny we have some beautiful prints to choose from to inspire your imagination and get your baby involved in showing appreciation for some classic tales.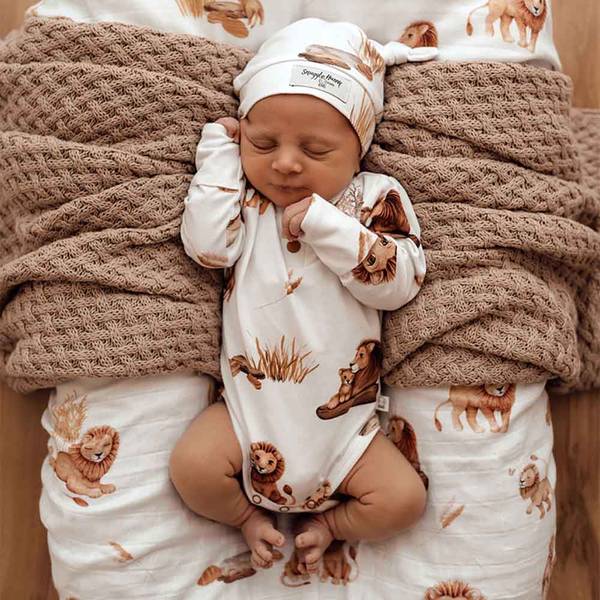 Here are our top picks:
Our

 

Lion

 

and

 

Roar

 

prints link so nicely to so many amazing children's books, including 'A Lion in the Night' by Pamela Allen. This fun story is about a baby who makes a wish, transforms her toy lion into a real one for one night, and goes on an adventure! Dressed in our prints, your bub will certainly be ready for their own adventure.
'Give Me Some Space!' by Philip Bunting is an immersive picture book about an adventure out of this world and teaches little ones about space and galaxy above us. Our

 

Milky Way print

 

shows all the planets illustrated in the book and brings the story to life in a stunning print. Your little one will be ready to explore and go on a journey out of this world!
We have so many amazing animal prints, with

 

Safari

 

being one of them. It shows all of the wonderful African animals seen in Safari, So Good! by Bonnie Worth, Aristides Ruiz & Joe Mathieu B. This is a story showing the classic character, Cat in the Hat taking on a safari ride in Africa exploring native animals and they're habitat through rhyming verse and illustrations.
Looking in our own backyard, we have many prints with a nod to our Australian heritage with the

 

Eucalypt

 

print showing many adorable Koala's in Eucalypt trees. An inspiring book about these native animals is The Koala Who Could, by Rachel Bright is a heartfelt tale of a shy koala who discovers taking risks can lead to big adventures.
Finally looking to our beautiful world, Plant the Tiny Seed by Christie Matheson is an interactive illustration of the life cycle of plants, engaging little ones to assist in the process of gardening. Our prints of

 

Sunflower,

 

Blossom

 

and

 

Rosebud

 

perfectly link with the garden from the story, displaying a range of different flowers and colours.
The possibilities are endless, but these are five of our top picks to get your baby involved in Book Week! Have fun, dress up and enjoy celebrating the power of stories and imagination with your little hunnies. Don't forget to tag us in any of your Book Week celebration pics!