Happy World Down Syndrome Day
Happy World Down Syndrome Day! 21st March every year is World Down Syndrome Day, a day all about raising awareness of Down Syndrome and promoting inclusion.
This is a day that is very important, and close, to us at Snuggle Hunny. Our little boy, Woody, has Down Syndrome and we are huge advocates for promoting inclusion and diversity. 18% of Australians have disabilities and that includes lots of babies. Approximately 290 babies are born each year in Australia with Down Syndrome.
We can all be better at celebrating all babies, promoting awareness and supporting those families who live with a disability.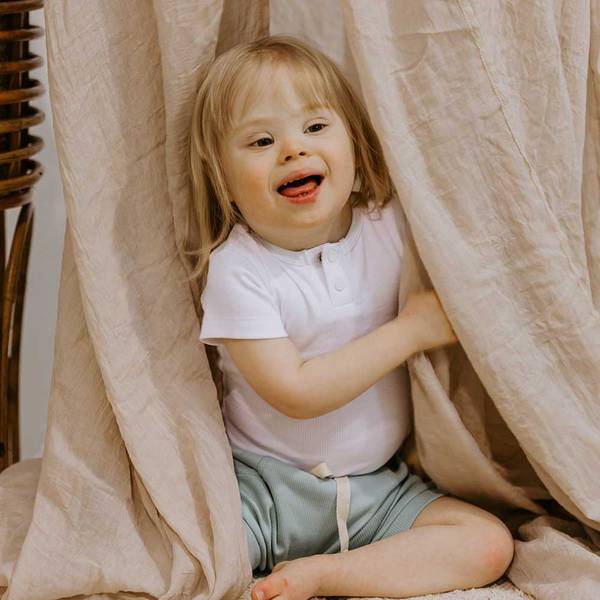 Tell me more about Down Syndrome
Down Syndrome, or Trisomy 21, is a genetic difference. Most of us have 23 pairs of chromosomes (46 all up) but someone with Down Syndrome has an extra copy of the 21st chromosome so 47 chromosomes.
This results in physical and intellectual differences which can include:
some level of intellectual difference
some characteristic physical features eg almond shaped eyes
low muscle tone
increased risk of some health conditions (many of which are treatable)
some developmental delays eg speech, walking
Let's Chat Woody!
Our amazing little boy Woody is 4. We found out Woody had Down Syndrome when I (Julie) was 12 weeks pregnant. It was not an easy pregnancy and, being very open, it was very confronting news when we found out. We didn't know a lot about Down Syndrome and the support wasn't great in helping us find out more information. I am very focused on trying to change this as babies like Woody are an absolute gift. 
Woody is a beautiful soul and he is the life of any room. He isn't walking yet but is taking a few steps; it takes Woody a very long time to hit those milestones and when he does we celebrate very loudly. He is learning like any other baby, just at his pace and we are in no rush. The best job we can do as parents is love him, support him and make sure we do everything to get him the right early intervention he needs so he has the best start in life.
Woody also has an ASD (hole in the walls of his heart) so will need heart surgery in a year or two. Approximately 50% of babies born with Down Syndrome have congenital heart defects. Woody is the star of a recent collection we launched, Heart for HeartKids. 10% of all revenues go to HeartKids.
To learn more about Down Syndrome and how how you can support it head to Down Syndrome Australia.