Hospital Bag Essentials
If you're anything like me as a first time expecting Mum, when you found out you were pregnant you were firstly, over the moon with excitement and happiness but then a little bit of nerves and anxiety set in when you realised how much you need to prepare for not only your newborn's arrival but for labour and birth.
When you hit the third trimester (or for me, even earlier) people started asking me if I had prepared a hospital bag, what I had packed, what outfit baby was coming home in, which post-partum compression tights I was getting and every other question under the sun which made me stressed! I was super lucky to have had a sister and sister in law have babies the year prior who sent me their 'hospital bag' lists which was an immense help and so I have written a list of essentials that I'll be packing in my bag!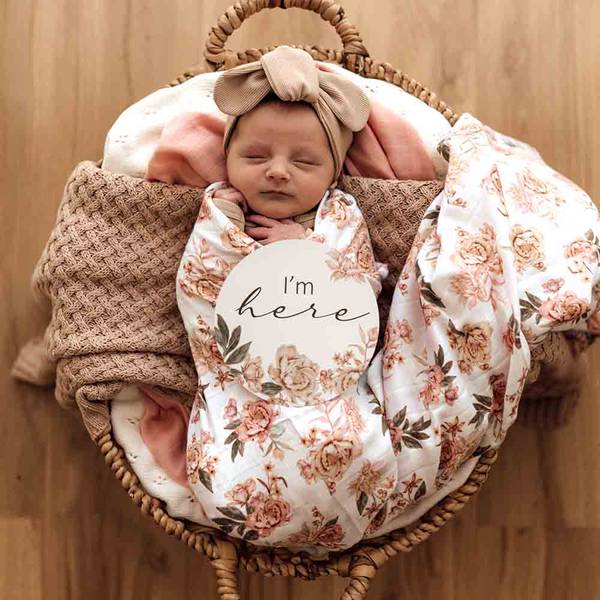 Comfortable pyjamas and/or loungewear - 2 pairs of loose fitted pyjamas and a lounge wear set for when visitors come around and for when you are making the trip home. I made sure to pick ones with button down shirts to make feeding easier (if that's what works for me and bub) as well as sizing up for a looser, more comfortable fit.
I will also pack a robe for if I get a little cold/want to cover myself up a little more.
Slippers - These probably aren't a must-have, I definitely could have packed a pair of slides or shoes I already owned however I bought a nice comfy, fluffy pair to move around the hospital in and make me feel a little nicer because who doesn't love a new pair of slippers.
Maternity bras - Again, if I end up breastfeeding these will come in handy and If I don't then these will just be super comfortable and nice to wear anyway! I have packed 2.
Compression underwear - Probably not a must-have however these came highly recommended to me. I grabbed 2 pairs which have a little pocket to insert a warm or cold pack to help with swelling and discomfort down there (as well as a spot on your lower belly if having a c-section).
Disposable maternity underwear - To wear under the compression underwear for obvious reasons. A lot of Mum's have told me to skip the pads for the first few days and just go straight to the disposable undies as they are a little less fuss! I will still pack a few pads and have some ready to go for when I am home but will use the undies in the beginning.
Breast care: Also super specific to breastfeeding however I am packing just to be prepared, breast discs/hot and cold packs, nipple balm, nursing pads and nipple shields (my sister swore by these).
Overnight essentials: Then of course there are the essentials for yourself like skincare, toothbrush and toothpaste, hair care items and any other self care items you wish to bring along, for me a good body moisturizer and lip balm too as I have been told hospital air is drying. Also items like my phone charger (advised to grab an extra long cord so I can use my phone in bed if the charging port is far away). A big water bottle I was told is also super useful and thongs for the shower!
For Baby
I have heard LOTS of mixed advice on this, lots of people telling me that the hospital has most things and not to overpack and others saying they packed a lot and used everything they packed! So I have tried to keep things minimal whilst still being super prepared!
Birth announcement outfit: I am yet to pick this! But likely a beautiful Snuggle Hunny muslin wrap as I am giving birth in November when it is likely to be hot with the matching milestone cards and blanket (I have my eye on our new season Major Mitchell print). You can find our beautiful birth announcements outfits online.
An extra few muslin wraps for swaddling/covering up bub on our way out of the hospital/wiping up spills etc - I have been told muslin's are the absolute best multitasking item. Shop Snuggle Hunny organic muslin wraps.
Coming home outfit: Something super soft and comfortable! I will pack 2 options, a growsuit and short sleeve bodysuit and will pick between which is more suitable with the weather. I will also pack NB and 0-3m sizes just to be extra prepared! Find beautiful baby outfits at Snuggle Hunny.
A few pairs of socks/mittens and singlets (just incase).
Dummies. Nappies and wipes.
I am sure this list will grow a little as I get closer to my due date and know that other expecting Mum's lists may look a little or a lot different and that is okay! What is an essential to me may not be to another parent and vice versa. I think the most important thing here is packing what is essential to YOU and your family and that you feel confident and prepared with what you're bringing along with you. It's also super important to remind yourself (and I have to do this regularly) that the shops don't close when you have a baby! You can always send your partner, friend or family member to the shops to grab you something you may have forgotten or decide you need. I hope this helps!
Annaliese, Snuggle Hunny Social Media Coordinator