Our Top 5 Bassinet Sheets
Bassinet Sheets are one of the much-needed essentials when it comes to nesting for bub's arrival. They can add a little something special to their sleep space, providing comfort and also looking gorgeous. The use of our bassinet sheets doesn't stop there though, they are so versatile they can also be used as a change pad cover, co-sleeper cover, or even pram liner. If you need a little bit of inspo on which Bassinet Sheet is best for your little bub read on to learn what our top five Bassinet Sheets are, and which one you need in your nursery.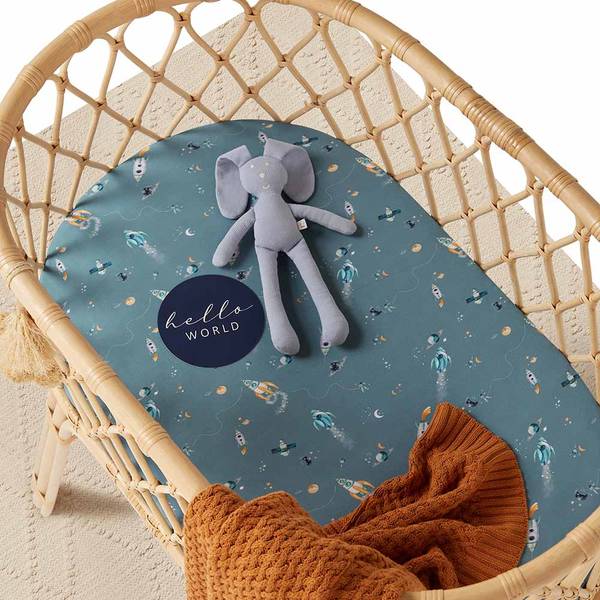 Rocket  
Zoom to the moon with Rocket! This gorgeous print is perfect for space themed nurseries and a favourite with little boys. This print works back beautifully with our Hazelnut Diamond Knit Blanket and our Rocket Snuggle Bunny, making your bassinet or even pram a photo-worthy shot! 
Rosebud
Rosebud is another recently launched bedding print that is perfect for baby girls! A very much loved Snuggle Hunny print, a white base featuring a rose floral illustration, complimented by greenery, it is the sweetest print for a floral-themed nursery. This gorgeous Bassinet Sheet pairs back perfectly with our Rosebud Jersey Wrap & Rosebud Milestone Cards, making the sweetest announcement photos for baby's arrival or their milestones. The Rosebud Bassinet Sheet is timeless, making it the perfect sheet as bub grows.  
Dino 
Giving our boy prints some love, our Dino print is another timeless bestseller. Set in a Jurassic period on a white Jersey Cotton material with intricate illustrations of dinosaurs and greenery, it is easy to see why this is one of our most sought-after boy prints. This soft Bassinet Sheet looks dinotastic with our Dino Bodysuit, Dino Milestone Cards and with our newest Dewkist Diamond Knit Blanket. This print offers so much versatility for an adorable nursery setting and has you covered for a stylish look everywhere you go! 
Spring Floral 
A much-loved floral print that is perfect for a baby girl is our Spring Floral print. This design is filled with hand-painted florals of pink and yellow tones and the Bassinet Sheet is perfect for a bright, summery vibe. Our Spring Floral print is a fan favourite here matching back so nicely with so many Snuggle Hunny styles. From Rose, Biscuit and Olive Rib, it pairs beautifully back with the matching Milestone Cards & Dresses - it's not hard to see why it's a much-loved print! Our Spring Floral Bassinet Sheet looks beautiful in a variation of prams, co-sleepers, and bassinets, and is a gorgeous addition to brighten your nursery.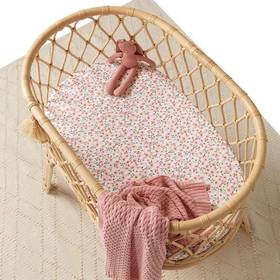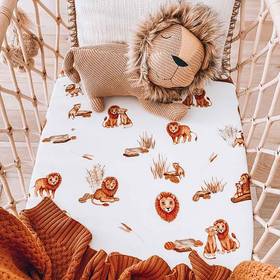 Lion 
And last but definitely not least, our Lion print is our final top five Bassinet Sheet print and it's no wonder why. With a white Jersey Cotton base, detailed with intricate lions and scenery, our Lion print looks roarsome and is sure to melt your heart. This is another fantastic neutral print that works beautifully for both boys and girls and a timeless print that can grow with bub. Our Lion Bassinet Sheet can be paired back with our Clothing, Lion Milestone Cards & our recently launched Lion Snuggle Bunny, making this a wild nursery theme.  
There you have it! These are some of our favourite Bassinet Sheets, which prints are as versatile as the use! Ranging from Bassinet Sheets to being used as a change pad cover, co-sleeper cover, or even pram liner, our Bassinet Sheets have got you covered for a stylish look for every use!