The Difference between Muslin and Jersey Wraps
Jersey or Muslin Wraps – What's the difference?
Imagine feeling nice and warm and snug as a bug……then all of a sudden you are out in a big wide world, without the comfort you have become so used to! While it is impossible to know how babies feel when they have been used to the warmth of the womb, this might give you an idea of why babies love being wrapped and warm! Swaddling your baby can help them to feel comforted, mimicking the familiarity of being bundled up inside the womb. Swaddle wraps use your baby's own body to provide comfort while they rest. We have a variety of options to choose from when it comes to swaddling, so how do you know what will work best for you? Read on to learn a bit more about our different swaddle options across organic muslin and jersey cotton.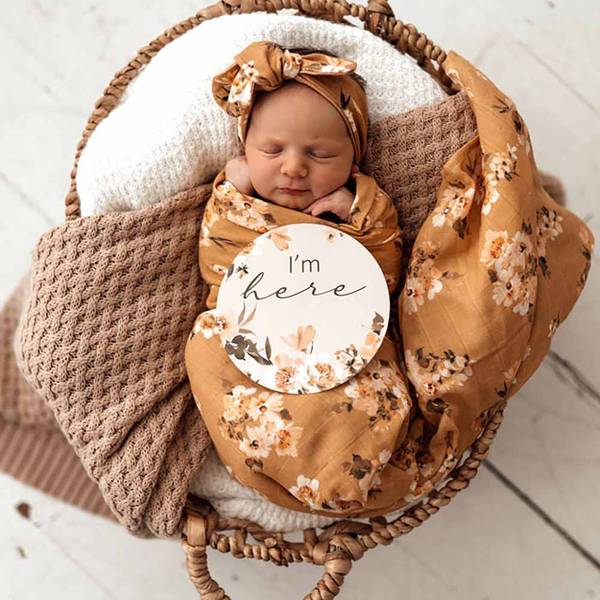 Organic Muslin Wraps
A Snuggle Hunny Kids Organic Muslin Wrap is made from the finest quality certified organic cotton muslin. The fabric is lightweight and breathable and super soft and gentle on your little one's skin. They are a simple and beautiful way to swaddle your baby and would make the perfect gift for a new baby or an expecting mum!
Similar to the Jersey Wrap, they are machine washable on a cold gentle cycle.
Muslin Wraps are thinner when compared with a jersey cotton wrap, which makes them perfect for warmer days, or warmer climates when you still want to be able to swaddle your baby, but need to take care not to let them overheat. 
Organic Muslin Wraps also have the benefit of being multi-functional. Our multi-use muslin wrap can be used as a swaddle wrap, lightweight blanket, pram blanket, comforter, nursing shield or change mat and are a large 120cm x 120cm size. If you're wrapping the extra material can be helpful. We've put together a list of 10 unexpected ways to use our Organic Muslin Wrap, that you might not have thought of. Shop Muslin Wraps. 
Jersey Wraps
Our Jersey Wraps are made from soft organic cotton jersey and printed in a range of unique colours and prints exclusive to Snuggle Hunny Kids.  They are slightly thicker than a muslin swaddle and have the added benefit of some stretch, which can make them easier to work with, and provide a bit of extra snuggle. Perfect if your baby is extra wriggly, or you need some extra time to get your swaddle technique down pat.
Because jersey is thicker, they provide more warmth than their muslin cousin, making a Jersey Wrap a good choice for when you need a little extra warmth and snuggle for your baby.
Our Jersey Wraps are slightly smaller than our Muslin Wrap (100 x 100 cm compared with 120 x 120cm) and they come with matching beanies or topknots. They are ideal for wrapping your baby, can be used as a blanket for the cot/bassinet, as a nursing shield or as even as a snuggly blankie. Jersey wraps are versatile, durable and one of the most used items in the life of a newborn. Our easy-care Jersey Wraps are machine washable, on a cold gentle cycle, and require no ironing. Shop Jersey Wraps. 
Now that you know the differences between our wraps, you are ready to start swaddling and snuggling with your bub! We have a range of beautiful wraps in lots of amazing prints and colours on our website. Shop all our Baby Wraps.