The Story Behind our Heart Collection
This Valentine's Day we launch our beautiful Heart Collection and we couldn't be prouder of this beautiful print and the purpose behind this collection. 
10% of sales from our Heart Collection are being donated to HeartKids. HeartKids is the only national not-for-profit organisation in Australia solely focused on supporting and advocating for all people impacted by childhood heart disease, one of the largest causes of infant death in Australia with over four precious lives being lost each week. 8 Aussie babies are born every day with congenital heart disease and over 65,000 Australians are living with congenital heart disease today.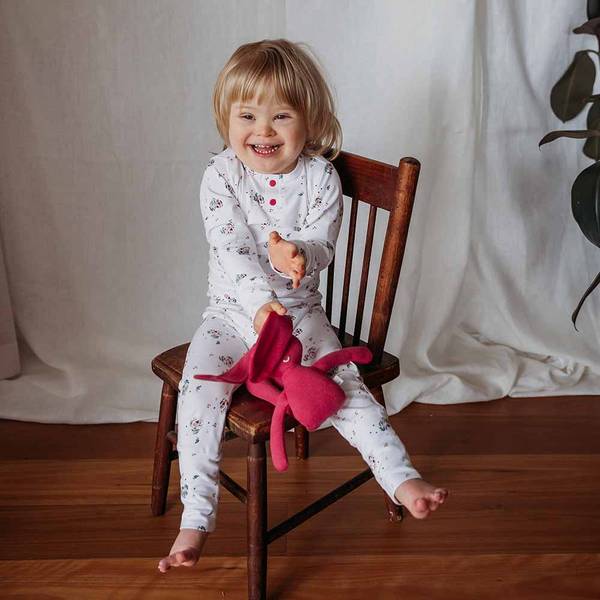 Why have we chosen HeartKids?
We like to support causes that we are passionate about and that also have emotional connections with us or our team. HeartKids has a hugely emotional connection for us; our little boy, Woody, was born with a congenital heart defect. He has an Atrial Septal Defect (ASD), a little hole in the walls of his heart and some other heart issues with tubes not quite going to the right place.  
Congenital Heart Defects are rare, but common among children with Down Syndrome, in fact, about 50% of infants with Down syndrome have some form of heart condition. With proper care and early intervention, kids with heart defects will live a happy and healthy life. 
Woody hasn't had heart surgery yet but he is due to whilst he is still a toddler; we just need him to be a bit bigger. 
What do HeartKids do?
HeartKids provide support in-hospital and home support for families who have a kiddy with a heart issue, just like Woody.
HeartKids offer peer-to-peer non-clinical support and information. It is important to be a listening ear for parents and extended family, often separated by distance and circumstance. They also assist by providing emergency care bags, food parcels, some financial assistance, referrals to Allied health professionals, and specific medical equipment when required. They connect families together so they feel less alone in their journey. Often the heart kids make life long friends as they connect and share experiences.
How can I help?
There are a few ways you can help. Sharing information around HeartKids and driving awareness is one. 
We want to help other children like Woody who have a heart condition and bring awareness to the amazing work they do. You can find lots of information on the HeartKids website and, of course, shop the Heart Collection and 10% of sales are donated to HeartKids.