What are muslin wraps used for?
Muslin Wraps are possibly the hardest working items in a baby's life (apart from their parents of course).  A baby will go through 1000's of nappies and wipes. They will outgrow clothes and require many baths & feeds.  However, when it comes to a great multi-tasking item that you will reach for time and time again, whether you are in the nursery or out and about, you won't find something more useful, in almost every situation you find yourself in, than a Muslin Wrap.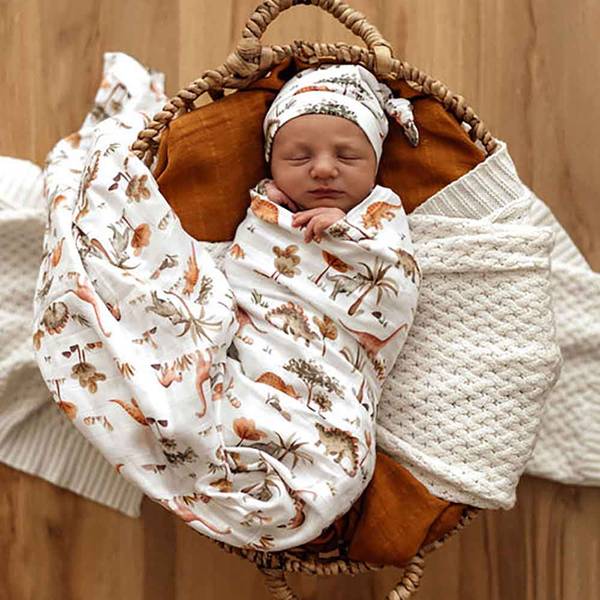 Why is Muslin used for babies?
Muslin is a soft cotton fabric which has been used since ancient times for baby swaddles.  It's a great choice for baby because it is:
Natural and breathable. Muslin is freely woven, allowing heat to escape and fresh air to enter so your baby can be comfortable and calm when wrapped in Muslin
Light & Flexible.  Muslin is light enough to ensure your baby doesn't overheat when wrapped, but firm enough to allow the baby to feel cocooned, just like they were in the womb
Certified Organic. Our organic muslin wraps are GOTS certified organic. We use only the best quality cotton made with dyes that are kind to baby and our planet. Only the best for bub,
How do you use the Muslin Wrap?
Ask any Mum or Dad to list out how they use their Muslin Wrap and I guarantee they will be able to give you at least 5 uses.  And if you're not convinced, pay attention next time you're around babies; what do you see covering them in their pram, or over their Mum's shoulder as they feed?  What are they lying on in the park?  What's shielding their face from the sun?  You got it - a Muslin Wrap.
But of course, the most popular use of a Muslin Wrap is in place of a baby blanket and as a way to help baby go off to sleep.
Baby Swaddles
A baby is more likely to sleep and feel settled when they are comfortable. In the womb your baby felt warm and secure.  Out here in the big wide world a similar feeling can be achieved by swaddling them in a wrap.  Muslin is the perfect material for baby swaddles because it is natural, breathable and light, so your baby won't overheat when wrapped, but it can be wrapped snugly enough around your baby to give them that feeling of being in the womb. And it's this feeling that will aid settling and sleep for your baby.
What is also lovely about these organic muslin wraps is that they are easily washed by machine, making them a practical baby blanket for daily use.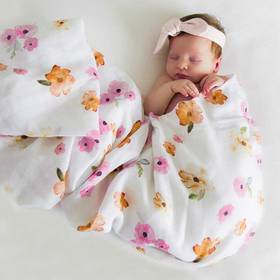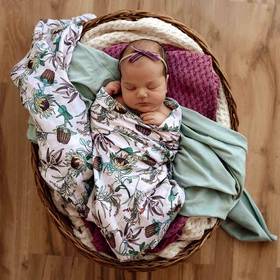 What other uses are there for a muslin wrap?
These are a few of our favourite uses for Muslin Wraps:

Nursing Shield - If you are feeding in a public place your Muslin Wrap is a great way to stop your baby from getting distracted by what's going on around you and it will provide you with privacy too.  Simply tuck the Muslin Wrap into your bra strap and place the fabric across your little one's cheek to create a shield.  Whilst your Muslin Wrap is lightweight and breathable, ensure there is an opening to allow for air flow.

Pram Cover - Help your bambino to settle in their pram by using your Muslin Wrap as a pram cover.  The wrap will provide a barrier between baby and distractions.  Whilst the wrap is breathable, ensure air is flowing freely through the sides to prevent overheating. 

Burping - Muslin is a soft, yet thick and absorbent fabric which can do double duty as a burping cloth for your little one.

Change Mat - Your Muslin Wrap is soft, durable and machine washable, making it the perfect changing mat for any time, but especially when you are out and about. 

Teether - You may find that your baby naturally chews on the end of their organic Muslin Wrap when they are teething, but you can make it even more satisfying for them.  Freeze some milk, or boiled water in an ice cube tray and when needed, pop a cube into the corner of the wrap, secure it with a knot and give it to your baby to sink their gums into.
How many Muslin Wraps will I need?
How many Muslin Wraps you need will depend on how often you do your laundry.  As a minimum we recommend two; one in use and one for back-up.  If your baby spits up a lot, or you aren't doing laundry each day, you will need more.  However because Muslin Wraps are more versatile and can be used for more than just as baby swaddles, we think five to eight wraps is a good number to start with.
Do you have a creative use for Muslin Wraps?  Visit us on Instagram at @snugglehunnykids and let us know how you use your Muslin Wrap.