What is a sleep sack
Ah sleep.  Your sleep and your baby's sleep will occupy much of your thinking time when you are awake in the first few month's of your baby's life.  Some babies are naturally good sleepers, but most little ones go through stages with their sleeping habits and will need your help to settle into a good sleep routine.
And the good news is, there are a lot of things you can do to help your baby be a good sleeper and swaddling your baby using a baby swaddle sack is one of those things.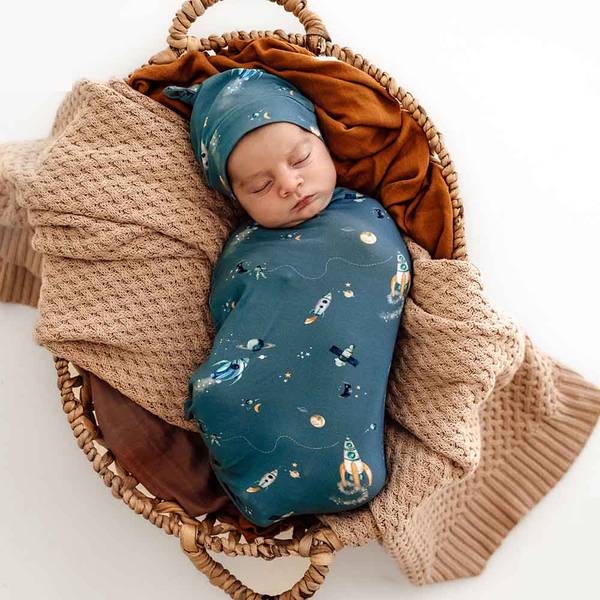 Will a sleep sack help baby sleep?
We're not promising miracles, but a sleep sack, or baby sleep bag as they are also known, does a very good job of helping to soothe your baby and encourage them to stay asleep longer.  Using the warmth and comfort of their own body, a sleep sack will keep your little one feeling snug when not in your arms.  Our Snuggle Swaddle Sack has the added benefit of being super easy to use, which further helps with sending your baby off into a peaceful sleep. 
Our Snuggle Swaddle Sack has no buttons, zips or velcro fasteners to worry about and you don't need to bother with special wrapping techniques either - you just slip your baby into the sleep sack when it's time for sleep.  With minimal disruption to your baby in terms of getting them swaddled for sleep, you should find that they settle more quickly and stay asleep much longer when snuggled up in their Snuggle Swaddle.
Tips for using a sleep sack
To pop your baby into a Snuggle Swaddle you simply gather the swaddle up with your hands and starting from the feet, slide it over your baby's body until it's reaching their shoulders.  If your baby is already asleep or drowsy, they probably won't stir as you do this - it's that easy to slip them into it.

The Snuggle Swaddle will keep your baby nice and warm.  To ensure they don't overheat, one layer of clothing underneath is all they should need, but make sure you check their temperature by slipping your fingers into the sleep sack.  Your baby's temperature should be similar to your own and they should not be clammy or sweaty inside their baby sleep bag.

The Snuggle Swaddle is suitable for use with newborns up to the age of 3 months; after this a Muslin Wrap or Jersey Wrap are the perfect way to swaddle your baby.
If you think a Snuggle Swaddle Sack sounds like the pathway peaceful sleep for your baby and you, we have lots online at Snuggle Hunny. There are lots of colours and patterns to choose from and they come with matching Beanie or Topknot Headbands so your precious bundle looks as cute as a button in their baby sleep bag.